I'm not sure if you know this about me, but I took piano lessons as a kid. For years. In fact, I can still play. I often sit down and play some of my old favorites. And now there's an option for live piano lessons online, which fits perfectly with my stay-at-home — wherever home may be — lifestyle.
Two of my children have taken lessons throughout the years, at two different duty stations. Our last piano teacher was wonderful, but she was also a military spouse and off she went to a new place.
Our piano was the one that lived at my grandparent's house. Neither of them played, but my mom did. And I did when we visited. The piano has many, many memories, including the times the piano bench was used at the end of the table for big family gatherings.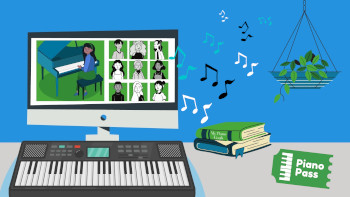 So when I learned that Lessonface was launching Piano Pass, a new online, daily class series for all ages and levels, I had to check it out. Signing up was easy and I am excited to look at all the options. There are over 80 classes each month, all with a real-life piano teacher. All designed to inspire you as you progress.
You can register for as many live classes as you want and they have a special bonus right now — just in time for the holidays. It's regularly $39 per month, but if you start today, your first month is $14.99. And, the Kids Pass is just $4.99 to start for the first 30-days.